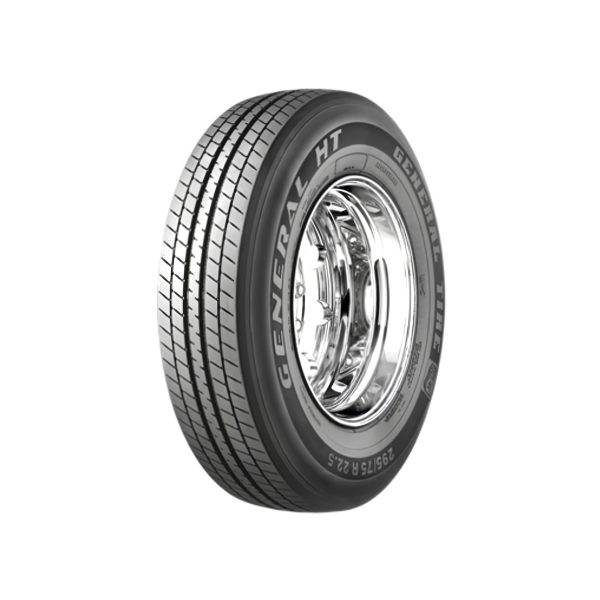 GENERAL HT 295/75R22.5
$340.00
Out of stock
Description
GENERAL HT
New Long Haul Trailer Tire
This solid shoulder trailer tire offers stone ejection technologies as well as increased durability, low rolling resistance and a wider casing platform.
Benefits
IMPROVED PERFORMANCE TREAD PATTERN – New tread design provides proven fuel economy and performance in a demanding application.
INNOVATIVE STONE REPELLENT TREAD PATTERN – Patented groove technology leads to minimum stone retention and extended casing life.
REINFORCED DAMAGE-REDUCING SIDEWALL  – Scruff ribs protect sidewall from curbing and cutting.
LOW ROLLING RESISTANCE –  Tread compound reduces cost by optimizing fuel consumption.
Details
| | | | | | | | | | | | | | | | | |
| --- | --- | --- | --- | --- | --- | --- | --- | --- | --- | --- | --- | --- | --- | --- | --- | --- |
| TIRE SIZE | DESCRIPTION | PLY RATING (L.R.) | STATIC LOADED RADIUS (INCH) | LOADED SECTION WIDTH | OVERALL WIDTH  (INCH) | OVERALL  DIAMETAR  (INCH) | TREAD DEPTH (1/32") | TIRE WEIGHT LB/KG | APPROVED RIM | MIN DUAL SPACING  (INCH) | RPM | LB/PSI         SINGLE | LB/PSI    DUAL | KG/KPA   SINGLE | KG/KPA         DUAL | MAX SPEED (MPH) |
|  295//75R22.5 |  General HT  Trailer |  G |  18.5 | 12.0 |  10.9 | 39.8 |  13 |  100/45 |  8.25,7.50 | 12.5 | 520 |  6175/110 |  5675/110 |  2800/760 | 2575/760 |  75 |