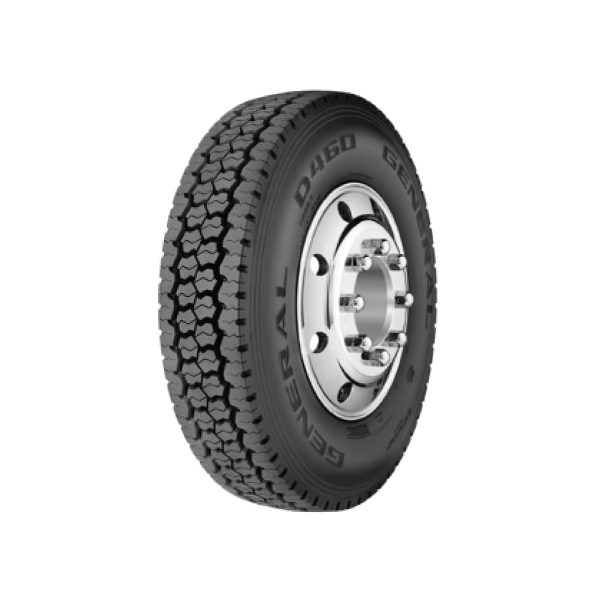 GENERAL D460 295/75R22.5
$370.00
Out of stock
Description
GENERAL D460
Long Haul Drive Tire, this solid shoulder drive tire pattern delivers strong performance in a variety of applications  and features a tread cap with a balance  of high mileage and cut/chip resistant properties.
Benefits
Traction Performance – Compounding tread properties provide resistance to cutting and chipping.
Innovative stone repellent tread pattern – Very high tread void percentage delivers exceptional traction, proven mileage and even wear.
Reinforced, tough, damage-reducing sidewall – Strong casing withstands the rigors of demanding applications leading to higher retreadability
Resilient tread compound – Tread compound balances reliable high mileage on highway with the durability needed for periodical runs over road conditions that are more severe.
Details
| | | | | | | | | | | | | | | | | |
| --- | --- | --- | --- | --- | --- | --- | --- | --- | --- | --- | --- | --- | --- | --- | --- | --- |
| TIRE SIZE | DESCRIPTION | PLY RATING (L.R.) | STATIC LOADED RADIUS (INCH) | LOADED SECTION WIDTH | OVERALL WIDTH  (INCH) | OVERALL  DIAMETAR  (INCH) | TREAD DEPTH (1/32") | TIRE WEIGHT LB/KG | APPROVED RIM | MIN DUAL SPACING  (INCH) | RPM | LB/PSI         SINGLE | LB/PSI    DUAL | KG/KPA   SINGLE | KG/KPA         DUAL | MAX SPEED (MPH) |
|  295/75R22.5 | General D660  Drive |  G |  19.7 |  11.9 |  10.8 |  42.1 |  30 |  123/56 |  8.25 |  12.5 |  492 |  6175/110 |  5675/110 |  2800/760 |  2575/760 |  75 |